Land Rover Services was originally established in 1975 by Barry Thornton.  Barry started in the motor trade in 1966 as an apprentice motor mechanic, fixing his Dad's Land Rover by the age of 19. After spending 4 years working for the local Land Rover dealer, he decided to start his own business and Land Rover Services was born!
Barry's son, Mark Thornton, inherited his Dad's passion and enthusiasm for Land Rovers, so much so, after completing his apprenticeship he joined the family business in 1993.  Mark worked with his Dad for 24 years learning the trade and business.  In Dec 2018 Barry retired and Mark and his wife jointly took over the running of the business, and Land Rover Services Hull Ltd was born! Barry is enjoying his well-earned retirement.
Director – Mark Thornton
Over 25 years of Land Rover maintenance and servicing experience.  Whatever problem your Land Rover/Range Rover throws at you, rest assured he will go the extra mile to solve your problem and get you back on the road.
Adam
Joined the business in 2007 as an apprentice mechanic,  during his time in the business he has expanded his capabilities taking on servicing and repair work.
Rob
Joined the business in 2019, a highly experienced Level 3 mechanic with vast mechanical knowledge, taking on all aspects of work.
James
Saturday apprentice, Son of Mark, 3rd generation Land Rover Enthusiast.
Poppy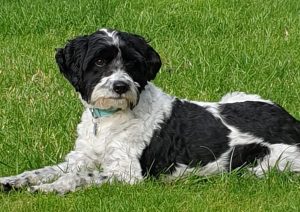 Family pet and Garage Mascot.